9 Quotes that will inspire every child to study
Do you find studies interesting or boring? Now that you are back to school, you better answer that question. Guess what? We are an NGO in India - Akshaya Patra – and we inspire millions of children every year to go back to school and study. We provide them with a free-of-cost wholesome lunch at school, so they never skip studies. We get funds through online fundraising or inspiring people to donate to this charity. And people donate generously because they realise the importance of education.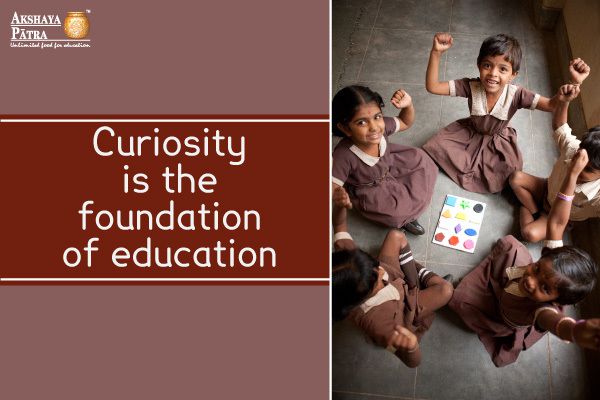 So, today we want to inspire you to study and study hard this year. These are some famous quotes of great men and women who took their studies very seriously.
Who doesn't want treasure?
The creator of Mickey and Mini Mouse – Walt Disney – loved reading. Here's what he said - There is more treasure in books than in all the pirate's loot on Treasure Island.
Physics woes?
Do you find physics very tough? That's because you have associated physics with difficulty. This quote on physics must inspire you - Physics is about questioning, studying, probing nature. You probe, and, if you're lucky, you get strange clues, said a noted Danish physicist Lene Hau.
Reading can relax you
Do you love Hermoine Granger from Harry Potter movies? Her character was played by Emma Watson. She says - It sounds so geeky, but I really do like studying and reading, and if I'm not working on 'Harry Potter', then my greatest relaxation is to sit with a book.
Are exams boring?
Well, a person who made science popular in modern times, Michio Kaku (physicist and futurist), has some advice for you. He says – Keep the flame of curiosity and wonderment alive, even when studying for boring exams. That is the well from which we scientists draw our nourishment and energy. And also, learn the math. Math is the language of nature, so we have to learn this language.
Studying takes you to success
You know what noted hockey player Pele said about success? He said: Success is no accident. It is hard work, perseverance, learning, studying, sacrifice and most of all, love of what you are doing or learning to do.
Studying leads to questioning
Albert Einstein once said: The important thing is not to stop questioning. But how would you question unless you earn knowledge, learn new things and study?
Want to be better?
Writer Maya Angelou said: When you know better you do better.
The only way to become a better person, student or citizen is to acquire knowledge.
Learning keeps you young
The founder of Ford Motors – Henry Ford – loved to learn new things. He said: Anyone who stops learning is old, whether at twenty or eighty. Anyone who keeps learning stays young.
You will go places
A popular writer of children's book – Dr Seuss – loved taking children to a ride of whole new worlds through his books. He encouraged children to study and read. Do you know why? Because, as he said, The more that you read, the more things you will know. The more you learn, the more places you'll go.
Inspired much? Then spread the word and put your heart into studies. Tell others about Akshaya Patra and how this NGO in India is helping school children get a wholesome lunch. Ask your elders to donate to this charity. You may also help us by simply organising an online fundraising campaign. Let's study and inspire others to study.
To be informed of the latest articles, subscribe: