What is the NGO's true mission?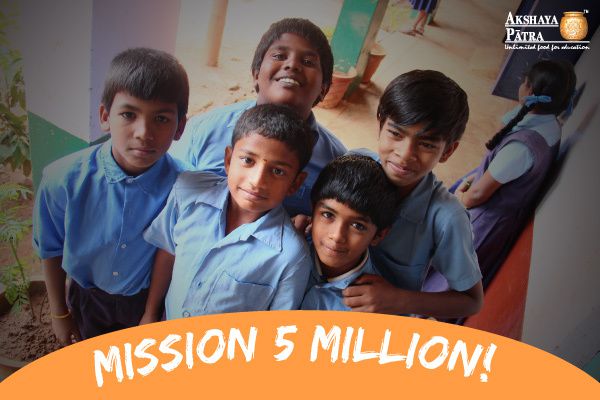 Be it any NGO, their sole mission is to uplift the world to make it better by bringing positive and sustainable change pertaining to humans, animals, plants, and the environment itself. And, this is true in case of Akshaya Patra too.
NGOs or non-governmental organisations are establishments that works to benefit the immediate society and the world at large. Though the sphere of work may vary, each NGO addresses and works towards a particular cause right from the grass root level to bring about a sustainable change. Similar is the story of The Akshaya Patra Foundation. Akshaya Patra is an Indian mid-day meal NGO established in 2000 to provide freshly cooked nutritious meals to government school children. It is headquartered in Bengaluru, Karnataka and has its operational base in 12 states of the country. The Foundation began its journey with the vision, 'No child in India shall be deprived of education because of hunger' and the mission 'To feed 5 million children by 2020'.
The conscientious vision and mission of Akshaya Patra has propelled its work and from feeding 1,500 children in 2000, the Foundation currently feeds more than 1.76 million children in 39 locations of 12 states, on each school day. In partnership with the Government of India and various State Governments, Akshaya Patra implements the Mid-Day Meal Scheme and has been recognised as the world's largest NGO-run school meal programme. Much early in the journey, Akshaya Patra realised the role of food in supporting education. It observed that mid-day meals act as an incentive to bring children to school and it also helps children to continue their education. Hence, over the years, Akshaya Patra strategically expanded its operation base from one location to 39 locations. The Foundation operates both centralised and decentralised kitchens to reach out to maximum children.
A nourished and nurtured childhood leads to a resourceful and prosperous adulthood. And, Akshaya Patra's meals instil hope among millions of children every day. This meal helps to counter classroom hunger, increases concentration, and makes children healthy. It supports their determination and dreams of creating a better future thereby making them responsible citizens of the country. Help Akshaya Patra by donating online. Your contribution will enable the Foundation to expand its reach and provide this meal of hope to more children. Step up to support the vision and mission, today!
To be informed of the latest articles, subscribe: